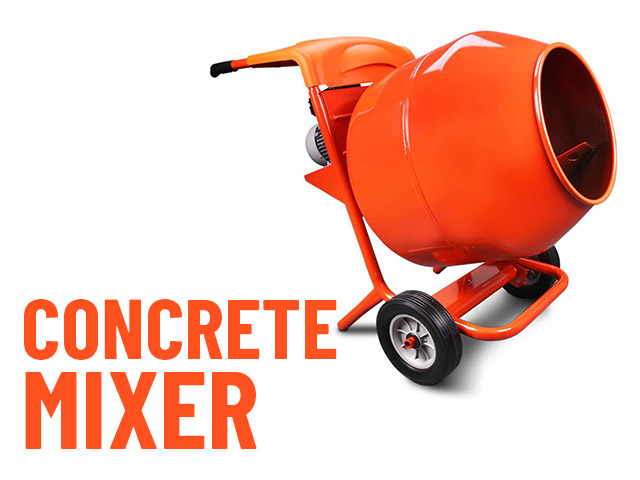 The rapid urbanization, rising population, and growth in construction activity in both developed and developing countries are expected to fuel the demand for concrete mixers in the upcoming time.
A concrete mixer machine homogeneously combines cement and other aggregates such as gravel, sand, and water to form concrete. Depending on the requirement of the application, concrete mixers of various sizes and types are manufactured based on their mobility and batching capacity.
Here's a list of some of the most commonly used types of concrete mixers and their applications in various construction works. There are two major types of cement mixers:
Continuous Mixer:
Batch Mixers or Drum Mixer:
Continuous Mixer:
As the name suggests, the Continuous mixers continuously keep on producing the concrete. Thus, the weighing, loading, and mixing of concrete ingredients and discharge of the concrete mixture are done continuously (until the entire work is done or until the work break occurs) in this type of mixer. The process of feeding ingredients in continuous mixers is automated, faster, and requires less staff.
Continuous mixer systems are generally set up at the construction site itself. They have a separate feeder unit for the intake of constituent materials, a mixer unit for mixing concrete, and a discharge mechanism for dispensing the concrete mix.
Continuous mixtures are mainly deployed while constructing very large structures, which require continuous consumption and production of concrete-like bridges, tunnels for roads, dams, and high-rise buildings to name a few.
Continuous concrete mixers are also used for the production of low-slump concrete in pavements. It is thus an ideal choice for high-volume projects, where speed and efficiency are a must. It should only be used when mix ratios can differ between batches. When more specific ratios are required, batch mixing is typically the better option.
Batch Mixers or Drum Mixer:
Batch Mixers are used to produce one batch of concrete at a time. The batch mixer has a revolving drum with blades or baffles fitted within it, which when rotated prepares the concrete mix. These types of mixers are usually powered with electricity and are situated on a base with wheels for providing easy transport.
Batch mixers are categorized as drum mixer type and pan mixer type.
Drum type mixer:
A Drum mixer consists of a double conical frustum-shaped drum. They are available in a variety of configurations to suit many different needs and applications. According to its type, the drum has either a single set of blades or multiple sets of blades that are used to mix, prepare and unload the concrete. The drum mixer uses a paddle with numerous blades curving in different directions; which is called a swing-blade paddle. The swing-blade design allows the drum mixer to maximize liquid movement within the rotating drum, which cuts down on time spent mixing. Drum type mixers are further classified into three types.
Tilting drum mixers: Tilting mixers have a conical or bowl-shaped drum with vanes inside. A Tilting drum mixer is capable of tilting upwards or downwards until a certain angle.
Non-tilting drum mixer: Non-tilting drum mixers come with a non-tilting drum that rotates on its horizontal axis to produce concrete.
Reversing drum mixer: In a reversing drum mixer, the ingredients of concrete rotate in one direction and are discharged from the opposite direction. Rotation reversal takes place for the various actions in this type of mixer.
A tilting drum concrete mixer is often used to blend plastic and semi-dry concrete. It is especially suitable for the construction of roads, bridges, water, and electric engineering.
Non-tilting drum mixers are generally used in small construction sites.
Reversing drum mixers are best suited to prepare dry mix concrete.
A Pan type mixer has a cylindrical pan, containing a set of blades to mix the concrete ingredients. In this pan, concrete mixing is done by a series of balded arranged in the shape of a star inside the pan. Pan mixers are bigger in terms of capacity (i.e. They are even capable of holding up to 1000 gallons for large-scale industrial use). Pan-type concrete mixers are further divided into two types.
In the first type, the circular pan type concrete mixer is constant while just blades arranged in a star manner rotate about the vertical axis of the pan.

Whereas in the other type of pan mixer, the circular pan rotates and star blades stay in a static position.
Batch Mixers are highly preferable for small and medium-sized construction sites. For batches of concrete up to two cubic yards (1.83 cubic meters), Portable Baby Concrete Mixers are sufficient.
Pan Mixers are ideal for efficiently mixing fine-grained materials due to their intensive mixing effect.
The manufacturers may use batch mixers or continuous mixers depending upon the quantity of concrete and the cost of work/project. However, it is very important to select a proper mixing procedure as well as mixer types to mix the concrete.
Besides these two types, the concrete mixers are also classified into Stationary concrete mixers and Mobile (portable) concrete mixers based on the installation methods. A stationary mixer is installed at the prepared foundation and it cannot move independently. It is widely used in ready mix concrete batch plants or some medium and large engineering batching plants. Whereas the mobile concrete mixers have the traveling wheels to carry out the small profile and lightweight. Accordingly, it is used in small and medium temporary construction projects.
At Smit Corporation, we are engaged in manufacturing and supplying high-quality Concrete Mixers, using quality assured components and sophisticated technology in compliance with the set industry standards. Smit's excellent range of Concrete Mixers widely appreciated by customers for having high production speeds and low maintenance.
For more details on the Cement Processing Machines , contact us