Steel bars are extensively used in construction work to reinforce concrete. Builders need the right length of steel bars for correct structural integrity. However, cutting through any iron bar can be challenging due to the material's thickness. So with a Bar cutting machine in construction.
A bar cutting machine is used for rapidly cutting various gauge steel wires. It is a 450-600 Kg heavy-duty machine with wheels, making it portable. Different types of cutting machines enable users to slice steel wire, steel bar, brass wire, aluminum wire, polycarbonate fiber, PVC pipe, and various other wires into very thin gauge sizes. There are many variations of bar cutting machines and each machine has a separate capacity of rebar it can cut.
The machine can be described as semi-automatic. It works on the principle of pulleys, gears, and electric motors. It consists of a strong electric motor. The electric motor is connected to a large pulley through a V belt. The electric motor makes the pulley move. The pulley then turns several connected gears inside the machine. The resulting torque drives the crankshaft. The crankshaft then drives the connecting rod to move the cutting blade.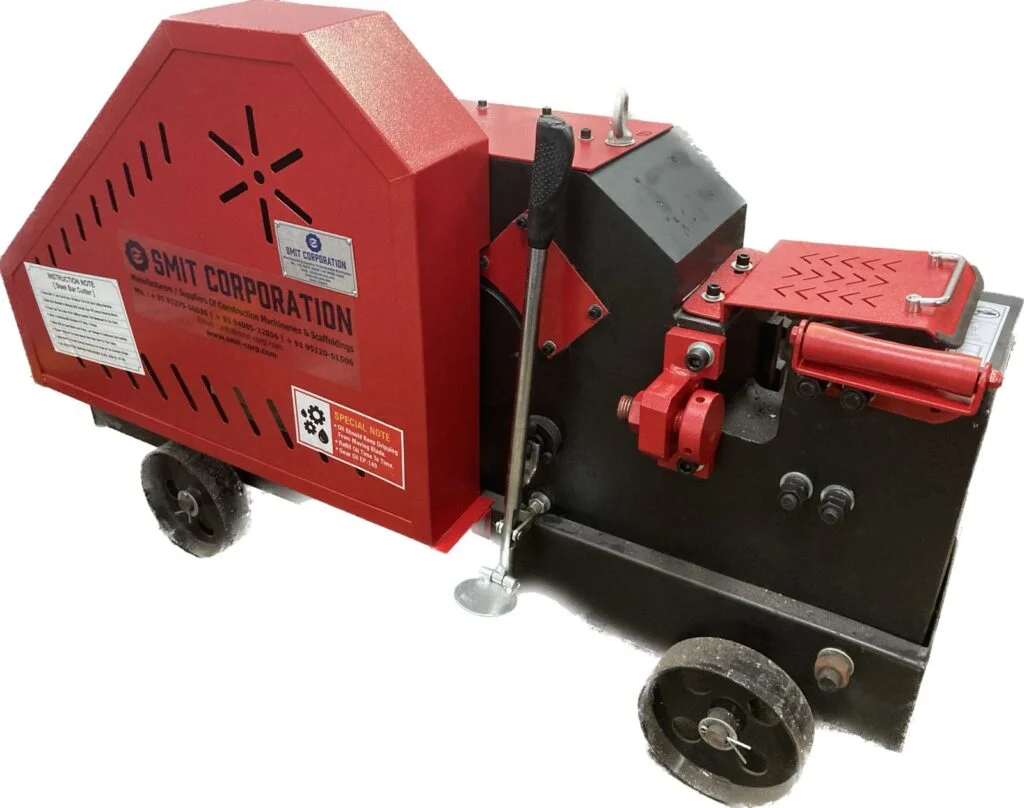 There are several advantages of using a steel bar cutting machine in construction.
It reduces the time taken for cutting, thereby helping to increase the speed of construction work.
It ensures your safety. As the latest steel bar cutting machine has safety options in it that help to manage the heat and pressure during cuts. Thus it reduces the chances of accidents and further injuries.
Furthermore, you can use these versatile bar cutting machines for cutting different types of steel bars like – hollow tubes, solid bars and curved bars.
Since most of the people prefer to use these machines at their place. Another benefit of the machine is that they are designed as easily moveable and portable.
It also enables you to do multi-task jobs within a short period of time as it has high capacity cutting tools. This machine is widely preferred by the people working in construction industry.
Here's how to use a bar cutting machine:
Step 1: First of all find a suitable space to set up the machine, so as to avoid any safety hazards or accidents.
Step 2: Read a safety checklist thoroughly before using the machine. Follow all the precautions, mentioned in the checklist. Make sure you stand away from the machine when using it.
Step 3: After placing the machine, connect it with a stable source of electricity. Make sure that the wires are properly covered and no one can trip on them. Carefully pour oil into the oil opening.
Step 4: A long stick-type handle, located on the side of the machine, is known as a cutting clutch. It moves the blade every time you pull it. Adjust the cutting clutch to your desired length to control the cutting process.
Step 5: Mark your bars at points you want to cut before you start cutting them. Now, safely place the steel bar inside the U-shaped grip and stand at least 2 feet away.
Step 6: Pull the cutting clutch. The moveable blade will slide towards the fixed blade and cut the bar in between. The motor gives enough energy to the blade to cut through the bar easily.
Step 7: Repeat the same process again while cutting the bar/s next time.
Summing Up,
Smit Corporation offers advanced Bar Cutting machines with robust design and high-quality components. Check out Smit's GQ series Products (i.e. Models- GQ50, GQ40, GQ25, GQ16) which can efficiently cut rebar steel, hot rolled steel, screw bar, flat rebar, square and angle bar.
Contact us to know more about Smit's Bar Processing machines.