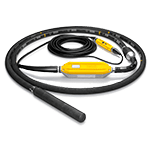 What is Concrete Vibration?
Concrete vibration or compaction is a process of using concrete vibrators for expelling entrapped air from the freshly placed concrete pour. The process packs the cement aggregate particles together so as to increase the density of the concrete.
Concrete vibration is a vital step in any construction site that cannot be ignored or left unattended. The aggregated concrete particles packed together result in a stronger and more durable concrete structure. Concrete which has not been vibrated is full of small air pockets which are otherwise known as honeycombing. The honeycombing results in a poor finish and a weak structure of the concrete.
Concrete vibration tools and techniques are utilized across the globe as an essential part of any compaction process. To ensure correct vibration, we have listed down 2 key categories of concrete vibrators depending on the type of compaction required.
What are Concrete Vibrators?
Concrete vibrator machinery is used for construction-based applications. They are available in several shapes, sizes, and mediums for operation.
They are used for compaction in various construction scenarios like the building of roads, railways, and buildings. The vibrators consolidate freshly poured concrete to remove the trapped air and excess water. 
Let's study different types of concrete vibrators in detail:
1. Internal Concrete Vibrator:
Internal vibrators are commonly termed needle vibrators due to their tubular shape. The vibrator consists of a steel tube with one end closed and rounded that encases an eccentric vibrating element inside. The steel tube termed poker is attached to an electric motor or a diesel engine through a flexible tube. The vibrators rotate with an eccentric weight which causes the vibrations to ripple from the casing and throughout the concrete, it is immersed in.
The radius of the vibration depends on the diameter of the casing, the tool being used, and the frequency and amplitude the machine is set to. Needle vibrators have different action radiuses and are powered either by fuel, electricity, or compressed air motors.
The best-class internal concrete vibrators are available with Wacker Neuson. Depending on the medium of operation, Wacker Neuson's internal concrete vibrator comes in different varieties.
2. Wacker Neuson IREN & IRFU Concrete Vibrator:
Under the instructions of an authentic Wacker Neuson IREN & IRFU concrete vibrator dealer in India, IREN's range of internal vibrators works even under tough conditions. Its high-performing electric motor and the induction-hardened vibrator head ensure high wear resistance.
3. HMS Internal Vibrator:
Wacker Neuson High-frequency internal concrete vibrator provides extreme flexibility and optimum sturdiness. Any Wacker Neuson equipment dealer will suggest an HMS internal vibrator as they are flexible in every construction site and have strong adaptation capabilities.
4. External Concrete Vibrator:
External Vibrators are known as Shutter form vibrators. They are used to consolidate freshly poured foundations as well as the compact surfaces of precast concrete. External vibrators consist of a fully enclosed structure that is rugged, dependable, and easy to maintain. It works on a 3-phase induction motor with a 4-cable cord encased in a rubber coating. The vibrator casing is made of aluminum alloy casing, providing a lightweight structure.
External vibrators have a differentiated vibration pattern. The machine is clamped on a form-work in a horizontal or a vertical position at a spacing up to 90cm. Vibrators are able to contest up to 450 mm of concrete. They have to be continuously moved as the concrete progresses. They operate at a frequency of 3000 to 9000 rpm at an acceleration of 4g.
External concrete vibrators are commonly used in thin and congested areas. They are also ideally used in the compaction of beams, and one-sided blind walls.
Wacker Neuson shutter external concrete vibrators are a renowned option for external vibrations. They have long durability and long service life. They provide maximum reliability and safety under the toughest working conditions. They have a heat-resistant electric motor, special bearings, and adjustable weight discs, making them the most reliable external vibrators available in the market.
Conclusion:
Concrete vibration is an integral part of construction sites. Depending on the type and level of concrete, vibrators can come in different forms. Depending on the level of vibrations required, Smit Corporation provides the best-in-class Wacker Neuson Products, the best concrete vibrating machine.
Smit Corporation is a certified Wacker Neuson High frequency internal concrete vibrator dealer in Gujarat and Wacker Neuson Shutter External Concrete Vibrator in India.
Connect at 9327556036 for more information about the Wacker Neuson Products from the Wacker Neuson equipment dealer in Gujarat .
August 11, 2021
By:smitcorp
Category:Safety rules
no comments